All cell phones, computers, printers, scanners, cameras and other electronic equipment that you no longer use are considered electronic garbage and represent a problem for our planet.
The also known as electrical scrap is one of the consequences of the digital world and the information society, according to the United Nations (UN).
According to its latest Electronic Garbage Report 2017 (Global Monitor E-waste 2017 in English), the refrigerators, televisions, telephones, computers and other equipment that we discard contain substances that represent a risk to the environment and to health .
2014 Report: What are the countries in Latin America that produce the most electronic garbage?
Data from the study conducted by the United Nations University in collaboration with the International Communications Union and the International Solid Waste Association show that waste has been increasing.
In total, the electronic waste generated on the planet in 2016 was 44.7 million metric tons, equivalent to 4,500 Eiffel towers of garbage.
Electronic waste grew by 8% in two years and only 20% of the waste generated was recycled. Of course, the UN stressed that more and more countries are adopting legislation in this regard.
On Latin America, the document points out that the region has a lot to do in this matter since it generates large amounts of electronic garbage, but also has low collection and recycling rates.
The region
During 2016, Latin America produced 4.2 metric tons with an average of 7.1 kilos of scrap generated per inhabitant.
In general terms, the Latin American countries that generated the most electronic waste were Brazil (1.5 metric tons), Mexico with 1 metric ton and Argentina with 0.4 metric tons.
Uruguay is the most polluting per inhabitant with 10.8 kilos per inhabitant, followed by Costa Rica with 9.7 and Chile with 8.7 kilograms.
Basura electrónica generada en América Latina
Países (en función de basura por habitante)
Cantidad por habitante (en kilos)
Cantidad por país (en kilotoneladas)
1. Uruguay 10.8 37.1
2. Costa Rica 9.7 47.6
3. Chile 8.7 158.6
4. Argentina 8.4 367.6
5. Mexico 8.2 997.8
6. Brazil 7.4 153.3
7. Paraguay 6.4 43.7
8. Guyana 6.1 4.7
9. Dominican Republic 5.8 58.8
10. El Salvador 5.8 35.8
11. Peru 5.8 182.2
12. Colombia 5.6 274.9
13. Ecuador 5.5 90.4
14. Guatemala 4.0 66.9
15. Bolivia 3.3 36.4
16. Nicaragua 2.2 14,0
Problems
For the UN, the region has a lack of regulation in this regard. Only a few countries have approved laws (Bolivia, Chile, Colombia, Costa Rica, Ecuador, Mexico and Peru), but even so they are in a very early process and need to make improvements.
In other countries such as Argentina, Brazil, Panama and Uruguay, only now is beginning to talk about addressing a legislative framework that regulates what to do with discarded electronic devices.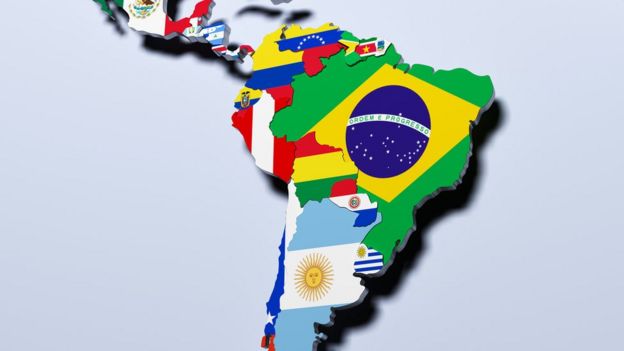 It is especially striking the large amounts of waste generated compared to the percentage that is recycled, which does not reach 3% on average in the region (except for Mexico that recycles 36% of what it discards).
On many occasions, the text points out, recycling is done by private or non-professional agencies that only take care of removing valuable items from electronic devices, but do not recycle them correctly.
Global
Globally, Asia is the region where most electronic scrap is generated, followed by Europe, America (which includes the United States and Canada) followed by Africa and Oceania in total terms.
At the level of garbage generated per inhabitant, Africa is the least and Oceania the most, but the organization points out the difficulty of accessing reliable data and believes that 80% of waste is not documented.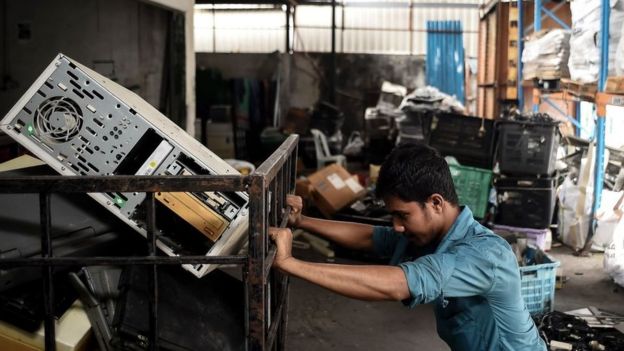 Despite the increase in the amount of scrap, the UN says that steps are being taken forward with 60% of countries worldwide adopting legislation in this regard.
He also points out that one of the reasons for the increase in garbage of this type is that more and more people have greater access to these products and those who already had it renew their terminals or appliances.