We always like to analyze computers that are not as famous as an iPhone or Samsung Galaxy, but that have all the advantages over these, they are good, beautiful and above all cheap.
Today we will talk about the LEAGOO S8, a mobile of Chinese origin that has surprised us with its large 18: 9 screen with 85% occupied area ratio, as well as being the first mobile equipped with a Quad-Cam camera, combining design at the same time and functionality like few others offer today.
Characteristics of the LEAGOO S8
The features and functionalities of Leagoo S8 that make it unique.
Integrated Quad Camera: Leagoo S8 includes two main cameras, one of 13MP and another of 2MP, along with two additional cameras of 8 MP and 2MP front to take the best selfies, taking photos with extreme quality and sharpness.
Ultra-thin 5.7-inch screen: this phone offers a 5.7-inch full screen, with a resolution of 1440 × 720 and a fine, finished and luxuriously designed appearance.
Powerful processor: the MTK6750T processor not only brings you a great experience of superior performance, with very little energy consumed, it also provides high efficiency and multi-tasking experience as few phones currently offer. The CPU runs at 1.5GHz and is an Octa Core, improving its performance 25% versus previous versions, and consuming 25% less energy.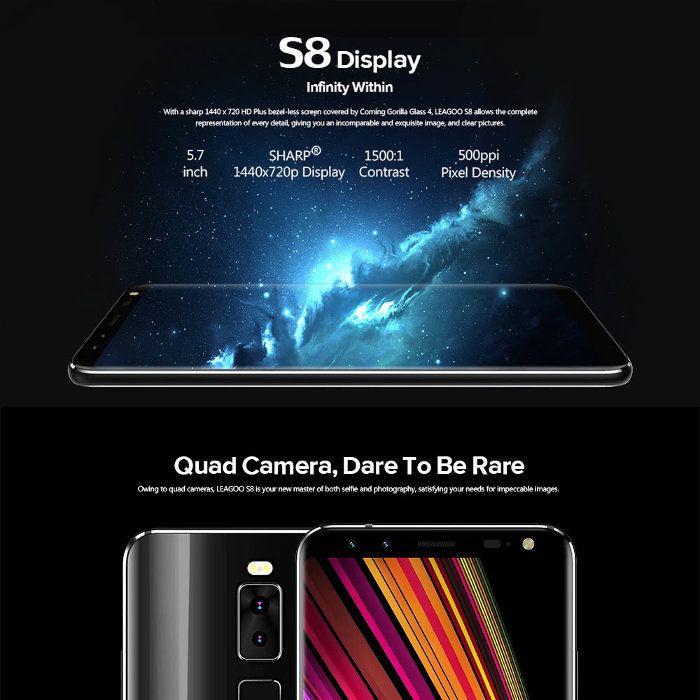 3GB of RAM: that assure you the best performance when opening heavy applications, as well as the most demanding games on the market.
32GB of storage: to allow you to install all the updates, applications, and new things that you want to host in your mobile phone to never run out of disk space on your mobile. It allows to expand it up to 64 GB of storage.
Dual 4G connectivity: 4g dual connectivity allows you with the Leagoo OS (based on Android 7.0 Nougat), access a 4G network and navigate twice as fast when you need to download applications, videos, or surf the internet. Thanks to the LTE Cat6 protocol, you can reach speeds of up to 300Mbps.
Smart Touch 360: the LEAGOO S8 is super tactile and reacts in only 0.1 seconds when unlocking it. The fingerprint sensor is located on the back of the phone to unlock it quickly.
Fast battery charge and high durability: this phone supports a super fast charge in a few minutes to have it ready with all the energy to use it the rest of the day, also with its 2940mAh lithium battery, makes the energy expenditure is reduced to maximum always and your mobile lasts longer on.
Supported languages: the following languages ​​are fully supported Japanese, Chinese (Traditional), Chinese (Simplified), Chinese (Hong Kong), Indonesian, Malaysian, Catalan, Czech, Danish, Portuguese, Roman, Slovak, Slovenian, Finnish Language, Swedish , Vietnamese, Turkish, Greek, Arabic, Urdu, Hebrew (Israel), Armenian, Ukrainian, Serbian, Russian, Kazakh, Bulgarian, French, Filipino, Spanish (United States), Spanish, English (UK), English (United States) , Estonian, German (Swiss), German (Austria).
Supported networks: 2G (GSM) / 3G (TD-SCDMA) 3G (WCDMA) / 4G (FDD-LTE) / 4G (TDD-LTE), GSM frequency: 850/900/1800 / 1900MHzWCDMA: 850/900 / 2100MHzFDD- LTE: Band 1/3/5/7/8/20, TDD? B40. The important thing before buying a mobile phone is to verify that the phone is 100% compatible with the telephone / mobile networks in your country.
Support for cards: 1 * Micro SIM + 1 * Nano SIM / 1 * Micro SIM + 1 * TF Card
Wifi and Bluetooth connectivity: apart from traditional ports, in terms of connectivity, it offers standard Wifi and Bluetooth to share files with all the users we need.